We (meaning myself, Cary Jensen and Loy Anderson) are trying to finalize cities and dates for the 2012 edition of Delphi Developer Days. This is what seems decided so far: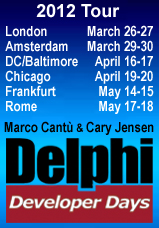 Two stops in the USA, in Washington DC/Baltimore and Chicago, two locations we've been to in the past. Tentative date is now mid-April. We are still soliciting input for a third city, but might add it only if the first two are sold out.

Three or four stops in Europe, in two different months. Most likely seems end of March and mid May. The two different European sessions will be before and after the USA stops. Current cities are Frankfurt, Amsterdam, and London. Plus we are really looking for a 4th stop. Top voted locations are Rome and Paris for now. Would you come if we set it up in a these cities or a different one? Or coming to London or Amsterdam is what you prefer?

Other regions. We are still evaluating other regions, including a stop in Dubai. But input has been very limited so far. Any other country? Do you like in Japan or Korea or Turkey and would you be interested in Delphi training in English? If there is enough demand we can set up extra stops almost anywhere...
So we are soliciting input at http://www.delphideveloperdays.com, and specifically at the Notify me page at http://www.delphideveloperdays.com/notifyme.html. Or feel free to commentr to this blog post if you don't want to fill the form with your data (even if giving us some information about you adds value to your request). In both cases, try to tell us why you'd pick a given city, not just which one you'd pick!