Cary Jensen and myself are officially announcing Delphi Developer Days 2011 in US and Europe: cities, hotels, dates, and the content.
Delphi Developer Days 2011 w/ Marco Cantù & Cary Jensen: DC/Baltimore, Houston, Frankfurt, & Amsterdam April-May 2011
Top Delphi experts Marco Cantù and Cary Jensen are teaming up again to present Delphi Developer Days 2011, a four-city tour in the United States and Europe in April - May 2011.
Cites and Dates:
DC/Baltimore area, US: April 11-12, 2011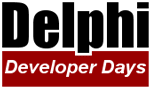 Houston, Texas, US: April 14-15, 2011
Frankfurt, Germany: May 12-13, 2011
Amsterdam, The Netherlands: May 16-17, 2011
This one-of-a-kind event includes both joint sessions, presented by Marco and Cary together, as well as simultaneous tracks, where Marco and Cary break out into separate rooms to present individual topics. Whether you are using the latest version of Delphi, or are developing with an older Delphi version, you will come away with information that will improve your development and make you more productive. Complete descriptions are at: http://www.delphideveloperdays.com/descriptions.html. There's also an Embarcadero Technologies Special Keynote, and an additional presentation by a guest speaker.
All Attendees Receive:
* An extensive course book (several hundred pages) written by Cary and Marco that includes all the material covered in all sessions
* Source code examples from all of the sessions
* A chance to win valuable prizes from our sponsors
* Lunch on both days
Space is limited to the first 35 registrants in each city. Register early and receive an additional discount. A discount is also available for attendees of previous 2009-2010 tours, and group discounts are available when registering three or more people from the same company.
Very Early Bird: Book Now!
Very early bird discount if booked right now for Europe (until mid January) and US (until the and of December).