After many years of working with Delphi as an expert, consultant, and book writer, I started working as Delphi Product Manager at Embarcadero in November 2012, which means this month marks my 10th anniversary at the company in this role – as LinkedIn reminded quite a few people.
The Beginning
I took a look at my email archive and found the following early emails threads from the first few days at the company (I've removed the senders):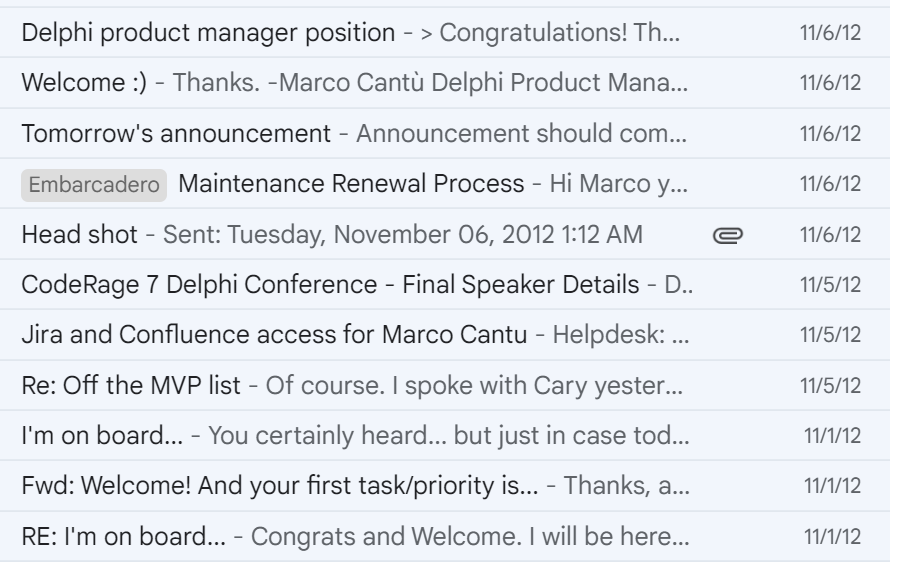 Being a Product Manager for a Dev Tool
10 years is a fairly long time and I thought it would have been nice to share some of my thoughts about this experience in a blog post.
First, it has been great to be part of the Delphi community in a very special role, engaging with customers, MVPs, passionate users, but also internal developers and experts, and the entire team at Embarcadero. Some of the people I started working with have been around over these ten years and have become friends. Others have joined the team bringing a great contribution.
Second, it has been challenging but also very rewarding to help drive the product, in its many areas and facets. We have a very diverse set of customers, using Delphi for totally different cases and in many industries: It is not simple to make sure the product improves following their wishes and expectations. Being a product manager is truly a balancing act and requires continuous interaction with the R&D team but also sales, marketing, and the company management.
What Happened to Delphi
What I want to focus on in this post are some of the core transformations of the product over these 10 years. A lot has happened in the computer industry and I've helped shape Delphi to address some of the requirements coming from this transformation. In the first year after I joined, Embarcadero released compilers for iOS and Android, later followed up by 64-bit versions of most compilers, the support for Linux, and the transition to ARM 64 for macOS.
Over the years the VCL was enriched with many features required by modern Windows development, up to the recent Windows App SDK support (also with TEdgeBrowser) but including the "desktop bridge MSIX" and now APPX support. From High DPI to extensions with styles, we are keeping it a first class citizen for Windows client development and have made sure it fully supports Windows 11.
I've also been largely involved with FireMonkey and its progress as a modern multi-platform solution targeting multiple operating systems with a single code base. Other product areas I've been extensively looking after are FireDAC and the overall database technologies, RAD Server, the GetIt package manager, just to name a few.
The list of features I was involved with and helped shape or I just encouraged and monitored, given another PM was in charge, is huge. To pick a couple, I'd mention Delphi LSP and the HighDPI IDE, which have been driven by David. Embarcadero has been adding so many new features during these years, but also refocused significantly on quality, performance, and stability, listening to requests from customers.
Despite all gloom, Delphi is still very much active and kicking, offering unparalleled support for Windows clients and multi-device applications development across many businesses and industries.
In Summary
It has been a very interesting 10 years, from a professional point of view and not only. I used to travel a lot, but spend most of my time working remotely. Now with remote work having become the norm and much fewer events in person, I'm spending even more time in my home office space.
I also have a different title today, Product Lead, IDE & Tooling, which involves helping with a few Idera Dev Tools products outside of Embarcadero, but I'm still devoting most of my time focusing on RAD Studio and Delphi. While I'm the first who wished to be able to deliver more Delphi language features and target platform, I hope the product directions over these 10 years has been appreciated by the Delphi developers community overall.