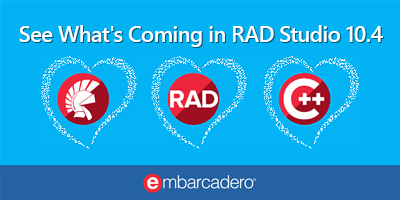 With the release of RAD Studio 10.4, Delphi 10.4, and C++Builder 10.4 approaching, Embarcadero is hosting a webinar to go over the main features of the release. This is the official description from https://www.embarcadero.com/events:
Title: See What's Coming in RAD Studio 10.4
Presenter(s): Embarcadero Product Management Team
Join the Embarcadero Product Management team for this webinar to see all the great new features coming in RAD Studio 10.4!
Key features include:
New Delphi CodeInsight based on LSP server
Custom Managed Records in the Delphi Language
New VCL Components, including TEdgeBrowser, and expanded High DPI support for VCL styled applications
Enhanced Delphi multi-device platform support integrating newer Apple APIs and supporting the latest Android
New LLDB-based debugger for Windows 64-bit for C++
Unified installer for online & offline installations, along with new GetIt Package Manager features
The webinar will take place on Wednesday May 27th, at 11 AM US Central Time (CDT), which corresponds to 6 PM in Europe (CEST). You can see the corresponding day and time around the world here. I'll help presenting slides and demoing some of the new Delphi features and also be available for the questions and answers session at the end. Expect this to go well over one hour, as we have a lot to show!
Sign up at https://register.gotowebinar.com/register/7159476968330857739