I guess I should turn this into a regular blog post, here are some more updates in GetIt package manager, after those in December. I'm listing updates for Berlin, only some of them are also in older versions. More are coming shortly.
RAD & Installer
There is now a second tool to build installations, beside InstallAware, called RAD & Installer. This tool is an expert for creating installation script from the IDE, more than an installation tool in itself. This is the "Installer" category in GetIt now: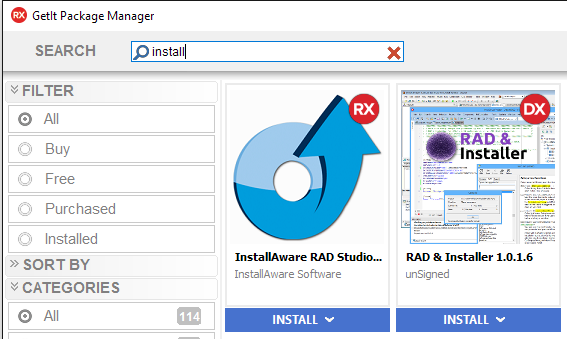 TMS IDE Plugin Pack
After a nice collection of trial version of their component packages (see last blog post), TMS has added to GetIt a free collection of IDE enhancements. This is not a trial, but free working software. Quite nice, I have to say.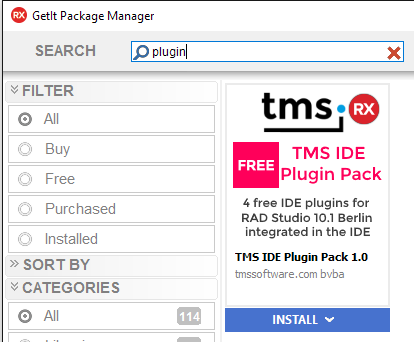 Updates and More
Updates to TurboPack libraries including VirtualTreeView, SysTools, Mustangpeak Virtual Shell Tools and other packages. Also, there are 2 or 3 additional submissions begin worked on, so keep an eye to GetIt (and possibly to an update of this blog post).
As you can see above, there are currently 114 entries in GetIt for RAD Studio Berlin, as the system has been growing in content over time.
Jan 25h Update
We now have also an additional Trial component, JAM Software ShellBrowser, the 115th entry.