It is a fairly interesting time to see Microsoft promote RAD Studio Berlin Update 2 support for the "Centennial" bridge, as the only IDE providing this capability out of the box.
First, Microsoft Windows Developer account tweeted about it at https://twitter.com/windowsdev/status/807978252820221952 (see below):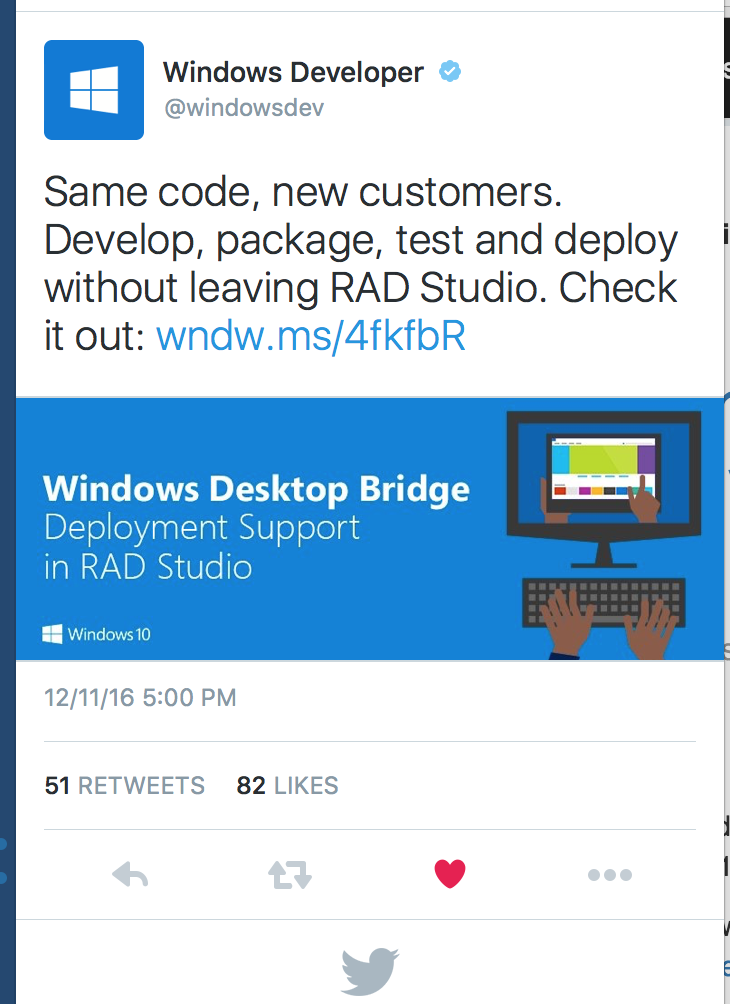 Second, RAD Studio has been mentioned in the blog post "Conversion options for bringing your existing desktop app to the Universal Windows Platform using the Desktop Bridge" at https://blogs.windows.com/buildingapps/2016/12/08/conversion-options-bringing-existing-desktop-app-universal-windows-platform-using-desktop-bridge, Towards the middle of the long post you can read:
"Additionally, Embarcadero has announced support for the Desktop Bridge in RAD Studio, which lets you directly output a Windows app package through the build process."
And third and even more relevant RAD Studio in mentioned in the official MSDN documentation at https://msdn.microsoft.com/windows/uwp/porting/desktop-to-uwp-root#convert.
For more information on our side, you can refer to:
- The new desktop Bridge landing page: https://www.embarcadero.com/products/rad-studio/windows-10-store-desktop-bridge
- The blog post (and webinar recording) by Pawel: https://community.embarcadero.com/blogs/entry/appx-development-for-windows-10-store (the video is at https://youtu.be/hEOk3Ztm-8g)
- My blog post offering an overview: https://community.embarcadero.com/article/news/16448-rad-studio-berlin-anniversary-edition-support-for-windows-10-anniversary-update-and-the-windows-store
There are more and more of our customers publishing Delphi and C++Builder applications on Windows Store, let us know of any relevant application that gets published so we can track it. As a reference, my "My MiniFigures" store app has been had 420 downloads so far, but I'm sure you can beat it!