There is a new public bug reporting portal for Delphi and C++Builder that we encourage you to use instead of the old Quality Central, also known as QC.
Quality Portal
The new Quality portal is open for bug reports from the RAD Studio developers community, and it is the preferred way to report issues from now on. The advantage of the new system (based on Atlassian Jira) is the better integration with the internal system (based on the same architecture). This should make the flow or errors, responses and request significantly smoother for both our quality assurance team and internal developers and for our customers reporting issues.

The new portal is at:

You can use the same EDN login of other systems, and after login you'll see that there are (currently) two projects, including RSP (Rad Studio Project), which is what you want to select: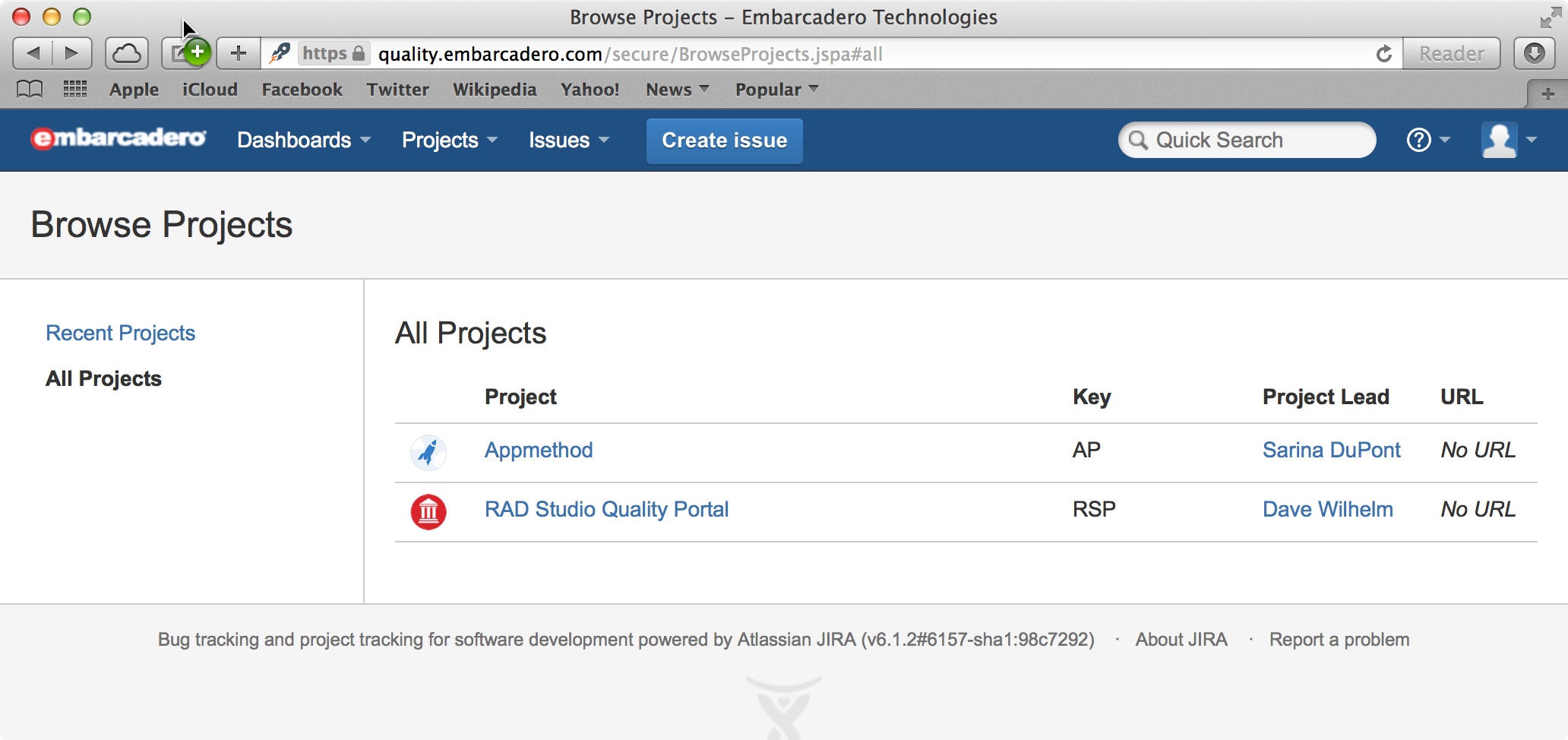 Update: To see the RAD Studio Project you need to be a registered user of RAD, Delphi or C++Builder. If you use an EDN account with no product associated, you won't see the project listed and won't be able to access the bug reports.

As you open the project you can navigate through bug by version and area, and also report new issues you've found. This is a list of recently opened (and voted) issues: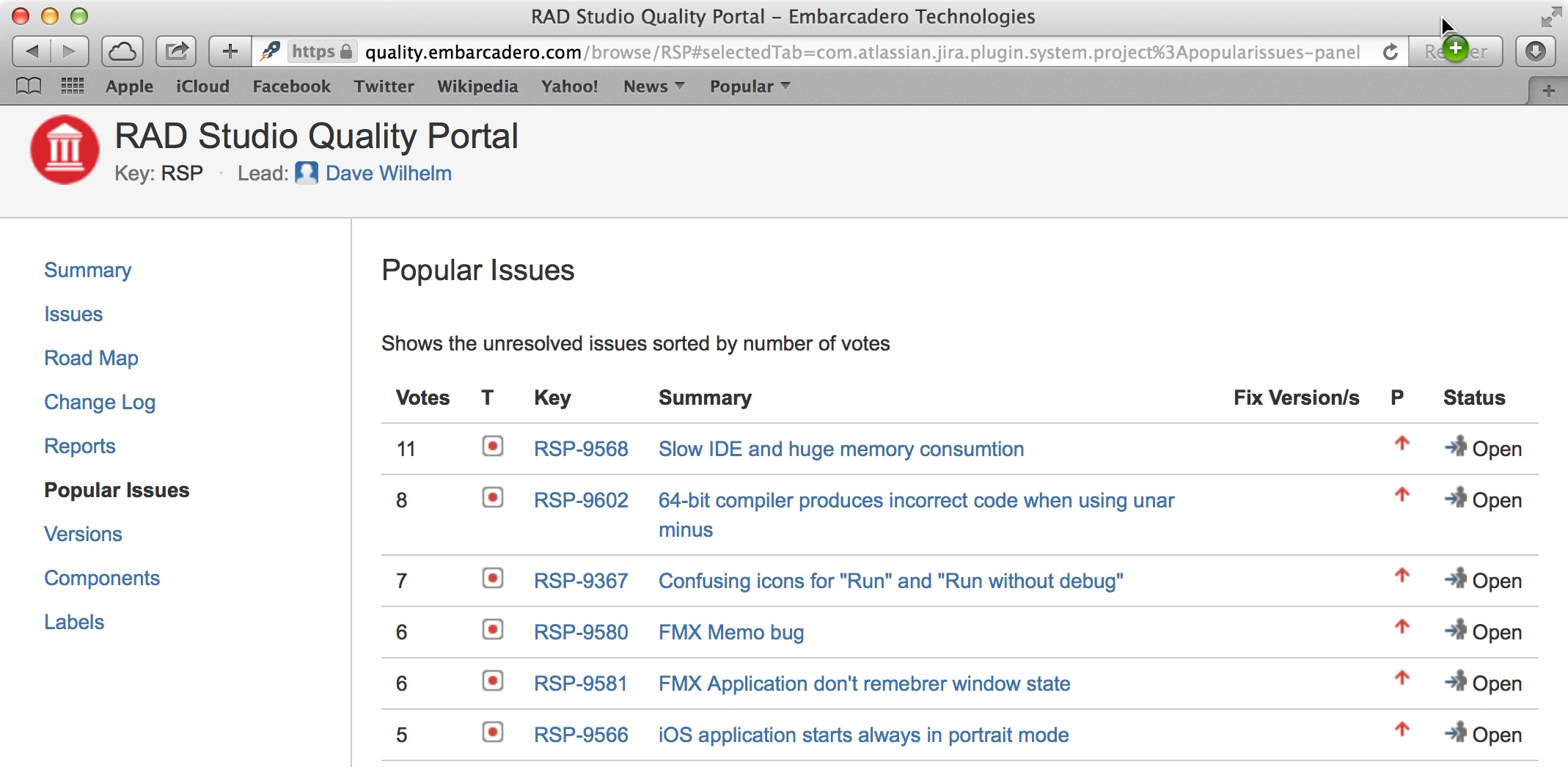 Quality Portal Q&A
Here are a few answers to questions. If there are more, feel free to ask them and we'll edit the list.

Q: Is the new quality portal replacing QC?

Yes, but QC will remain open for business. We prefer reports on the new system, but the other is still active. In the long term, QC will be retired or put in read only mode to let you check the status of older reports.

Q: What about existing reports?

All reports, whether they come from QC or the Quality Portal end up in the same internal bug tracking system. Even when we'll retire QC, nothing will get lost. It is possible, like it happens today for older bugs, that at one point we won't be able to provide status feedback for very old entries.

Can I set a priority for my bugs?

This feature is currently not available, we are considering adding it back.

How comes there are few categories?

We are also considering adding more categories, although probably not as detailed as in the past, because it was often the case that a user would associate a wrong category (something we fully understand given the complexity and cannot really complain for). A simpler structure makes sure the bug get to the right person, in charge of validating the issue and refining the category or directly assign it to the appropriate team or developer.

Can I enter a feature request?

The current system accounts for bugs only, although there is often a fine line between the two. If we consider your report a feature request, we'll just treat it as such internally. For pure feature requests, we currently don't have an internal system. An external one we are monitoring it delphi.uservoice.com.

Do you use the same process for validating bugs?

No, the process used now is different from the one in QA. There is no sysop validation, but the bugs go directly to QA, and from QA (if deemed) to R&D. QA can ask for clarification and comments. Other users can also add comments and we at Embarcadero can comment either on the internal system or on the public one, depending on the actual information provided.

Are the two systems kept aligned?

Yes, our internal system and the public one have deep integration. Any comment to the portal will immediately get to the internal system and the information flow should be much smoother than in the past.

Can I suggest new features?

Absolutely, while we finish tuning the new bug reporting process, input in very much welcome.