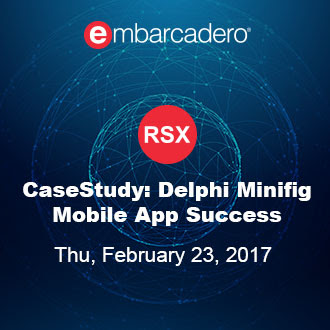 Embarcadero has asked me to give a webinar covering my experience in building and publishing my Mini Figures Mobile App, which is actually available on 3 Stores (iOS Apple, Android Google, and Windows Desktop Microsoft).
The description says "available on mobile, using many Delphi and RAD Studio technologies" and this is only partially true. In any case, I'll cover some of the lessons I learned publishing store apps, I'll show some of the technologiues used in FireMonkey, but also on the server -- there is a figure trading function backed by a WebBroker application.
Sign up at https://attendee.gotowebinar.com/rt/5624342105136125443
If you are looking into publishing store apps, this should be interesting. But even if not, learning how an idea of my 11yo son, initially developed over a weekend, turned into an interesting revenue generator -- at least for him -- should be instructive. In short, we put the app on the store to simplify sharing with his friends and would not expect having a quarter million downloads!
For more info on the app, refer to its Facebook page at https://www.facebook.com/myminifigures/ or download it from: